Euro Divers Spain
A diving center between Roses and Cadaques: the most beautiful corner of the National Park of Cabo Creus.
Gorgonia, algares, communities to stay, Red coral, vertical walls, Lobsters, sea horses… Glasses and a tube, snorkelling! Or submerge with a tank from a boat prepared with a hydraulic lift. The centre of immersion of Cala Jóncols will accompany you and asses you with the guarantee of the world famous:
'Eurodivers' – Discover the underwater world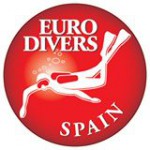 Roses (17480)
Cala Jóncols , Cala Jòncols S/N

+34 972 199 028 - +34 649 578 827
Center activities
Diving
Dives from the diving boat or from the beach. Discover the splendor, variety and richness that this Mediterranena alcove has to offer.
Try diving
Trial dives from the beach
Courses
Eurodivers offers an extensive range of diving lessons and courses, from beginers to expert divers.
Apnea
Freediving courses
Freediving exploration outings