Guide to scuba diving on the Costa Brava
The Costa Brava, one of the best diving destinations in the Mediterranean
Aiguablava, Begur and Fornells
Considerada una de las playas más bonitas de la Costa Brava, bucear en Aiguablava es una auténtica maravilla. Te sumergirás en aguas transparentes y podrás disfrutar de la riqueza extraordinaria de su fondo marino azulado entre paredes de gorgonias, coralígeno o praderas de posidonia. Hay dos centros de submarinismo: el AiguaBlava Dive Center y el Begur Dive que organizan diferentes inmersiones en la Costa Brava, desde salidasa a las islas Hormigas o al Furió Fitó, hasta Els Ullastres.
For beginners
If you are new to the fabulous world of scuba diving, you can choose between doing a first-time dive, known as a "sea baptism", to learn how to breathe underwater, doing an "archaeological baptism" to explore the wreck at the bottom of Aiguablava cove, or doing a diving course for beginners. You can also try snorkelling to enjoy the sea bed with all the family or do a "freediving baptism".
For scuba divers
You can experience unforgettable dives among submerged mountains, canyons, small islands and reefs and discover the sea bottom in exceptional spots like the cape of Begur, the canyons of Tamariu, Furió Fitó, Barda de l'Illa Negra and Furió d'Aigua Xelida, to name just a few.
And after your dive
Discovering Begur, a pretty village in the heart of the Empordà sheltered under its mediaeval castle, is a must. Strolling through its historic centre, you will be pleasantly surprised by the Indiano palaces and houses and the simultaneously bohemian and chic shops and entertainment venues. Don't forget to visit the little port of Fornell and enjoy the excellent gastronomic offer of the area, especially the rice dishes and the fish.
Blanes
Blanes, to the north of Sa Palomera point, is where we start to submerge ourselves in the Costa Brava. Apart from being an important fishing port, Blanes is a very lively municipality with pretty, wide coves and beaches that are ideal for combining relaxation and diving. Just 60 kilometres from Barcelona, it has its own rail connection, making it hugely attractive for public transport users. From Blanes you can dive right there in Santa Anna cove or in Es Niell de Sant Francesc, or if you prefer you can combine the pleasures of sailing and diving by taking a boat ride to discover Tossa's diving sites.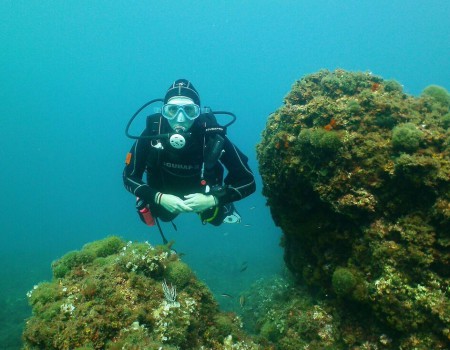 For beginners
If you are not yet a qualified diver, you can start out in this enthralling world with the activities organised by Blanes Sub, one of the Costa Brava's oldest diving centres. Santa Anna cove in Blanes is an ideal spot for a first-time dive, or a "sea baptism", or you can take a beginner's course or a go on a snorkelling excursion.
For scuba divers
Exploring the sea beds in places like Seca, Santa Anna, Nacra, Niell de Sant Francesc and S'Esquinça is thoroughly recommended. You will dive down to places between 18 and 30 metres underwater to discover their fauna and flora, including moray eels, nudibranchs, octopuses, rocky walls and Neptune grass meadows, among other marvels.
And after your dive
You cannot miss visiting the Marimurtra Botanical Garden hanging on the edge of the cliff with fantastic views of the sea, and the important fishing port and its harbour market, not to mention the lively shopping centre.
Cadaqués, Portlligat and Cap de Creus
Immerse yourself in Cadaqués, a stimulating and stunning Costa Brava village in Cap de Creus Natural Park. Under the surface of the water of its beaches and enchanting coves you will find the ideal place for your best dives. You will discover large, illuminated caves, gorgonian walls, groupers and moray eels, among many other species.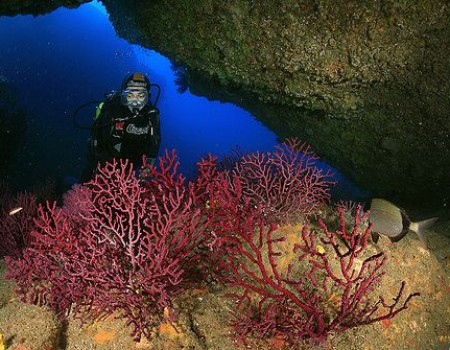 For beginners
Cadaqués, right in the middle of the Cap de Creus Natural Park in a sheltered cove, is ideal for a first foray into the world of diving. There is no shortage of sheltered, secluded, spectacular diving sites, ideal for doing a diving course or your "sea baptism". Sotamar Diving Center offers a wide range of activities: snorkelling "baptisms", courses and excursions to discover the sea bed from the surface and first-time freediving experiences.
For scuba divers
If you are already a diver, you will enjoy the wealth of the sea beds in Cadaqués to the full. You can do night-time dives, freediving excursions, upgrading courses or dives to sunken Greek and Phoenician ships, discovering beautiful corners like Ses Ielles and the emblematic Massa d'or.
And after your dive
Who is not fascinated by the figure of Salvador Dalí? You cannot go to Cadaqués without visiting the artist's house in Portlligat, a short walk from the village centre, and the nearby Dalí Museum in Figueres, both of which are musts for exploring the amazing world of the painter and tracing his artistic journey.
Cala Montjoi and Cala Jòncols
12 km from Roses right in the middle of the Cap de Creus Natural Park, we find two exceptional diving sites: Cala Montjoi and a little further on, Cala Jòncols. Scuba diving in the transparent waters of the prettiest, most tranquil beaches of the entire coastline, located in out-of-the-way, unspoilt, stunning spots, is an unbeatable experience. Both coves are protected from the strong northern Tramuntana wind, which is why they have always been a natural port for anchoring boats and taking a dive.
For beginners
You will have the chance to experience your first ever scuba dive, or your "sea baptism", be it from the beach or a boat, in a captivating place, the Cap de Creus Natural Park. You will also be able to do all kinds of diving and freediving courses, including "freediving baptisms", as well as snorkelling excursions suitable for the whole family.
For scuba divers
Cala Montjoi and Cala Jòncols are two of the most unique and beautiful places on the Costa Brava for scuba diving. Both Montjoi Diving Center and Euro Divers in Cala Jòncols organise daily dives in the Cap de Creus Natural Park reserve, where you will marvel at the underwater world with its huge extensions of gorgonian walls where you can find lobsters, moray eels, conger eels and a multitude of species that will delight any diver.
And after your dive
We recommend you explore the spectacular coastal paths that go through Cap de Creus taking you to the most hidden coves or visit Cap de Creus lighthouse on the easternmost point of the peninsula to watch the spectacular sunrises. In the summer season a tourist train runs through the area for those who do not want to walk.
Calella de Palafrugell, Llafranc and Tamariu
These three charming Costa Brava villages offer you the chance to enjoy unique diving experiences in such emblematic places as Ullastres, the Formigues Islands and the Tamariu canyons. There are 4 diving centres: Posidón, Tritón, Snorkel and Stollis, all of which can be found in privileged spots right on the shore in Calella, along the seafront in Tamariu and in Llafranc port.
For beginners
The villages of Calella de Palafrugell, Llafranc and Tamariu are all excellent choices for your first experience in the world of diving as they all have sites suitable for "sea baptisms", where you can enjoy the sheer beauty of your surroundings in the safe hands of the diving centre's professional instructors. These centres also offer diving courses for all levels, as well as snorkelling trips to discover the enormous variety of fish and unique enclaves like the 'Russian Bath', remember to ask where this name comes from!
For scuba divers
Some of the most well-known dives in this area are Furió d'Aigua Xelida, famous for its moray eel and lobster populations, Gisbert cove and especially Ullastres, the best diving area outside the protected zones. Two miles out of Llafranc Port you can dive down to discover these three fabulous marine mountains. As these dives range from depths of 8 to 40 metres they are suitable for many levels of diving ability. When you are diving among the corridors, niches and walls, you are likely to find groupers, scorpion fish, moray eels and huge quantities of red gorgonians. All in all, a classic diving experience!
And after your dive
Apart from walking around such iconic Costa Brava villages as Calella de Palafrugell, Llafranc and Tamariu, make time to explore some of the coastal paths, which are suitable for everybody, and to visit the Cap Roig gardens, known for their swathes of multicoloured flowers and, in the summer season, the prestigious musical festival concerts. San Sebastià lighthouse is also well worth a visit for the spectacular views, and don't forget the weekly market in Palafrugell town centre.
Illes Medes
The Medes Islands Natural Reserve is the par excellence destination for divers from all over the world. These seven islands form part of one of the most important marine reserves in the western Mediterranean and there are 13 diving centres in L'Estartit and more in nearby ports such as L'Escala. They offer diving, snorkelling and freediving designed to give you the chance to admire the huge gorgonians, the Neptune grass meadows and the enormous variety and quantity of fish.
And for those who do not want to get wet there are various glass bottom boat trips and other nautical activities on offer.
For beginners
Diving in the Medes Islands is regulated to protect and conserve the sea bed, and so a diving permit is required for this activity. For the same reasons, "sea baptisms" and training for beginners are not allowed here, but debutants can enjoy a highly recommended and unique guided snorkelling experience, during which you will marvel at the amount and size of the fish and other species that hide in the rocks and Neptune grass meadows.
For scuba divers
For unique sensations and unforgettable impressions, dive down to the rocky sea beds where you will see groupers weighing more than 30 kilos, schools of fish, underwater tunnels and stunningly beautiful coves carpeted with gorgonians and you will discover unbeatable diving spots like Vaca and Dofí.
The experienced scuba diver can also do exploratory freediving excursions. Divers from all over the world come to discover the privileged diving sites of the Costa Brava's Medes Islands.
And after your dive
The Medes Islands are part of the Montgrí, Medes Islands and Baix Ter Natural Park. This extensive marine-terrestrial protected zone is of enormous environmental interest and the wide range of activities on offer there, including bike rides, horse rides, bird-watching excursions and walks, are designed to help you explore it. The dunes, wetlands, the mouth of the river and the fields of fruit trees are all a must for nature lovers.
L'Escala
To the north of Montgrí, Medes Islands and Baix Ter Natural Park and exposed to the northern Tramuntana wind, L'Escala is a village with ancient origins and its own personality. Its important sporting port and the nearby Montgó cove are home to the diving centres that operate in the natural park, both along the Montgrí coast and the Medes Islands. Among the majestic cliffs there is no shortage of sheltered enclaves for diving, either on walls or in caves, islands or sunken ships.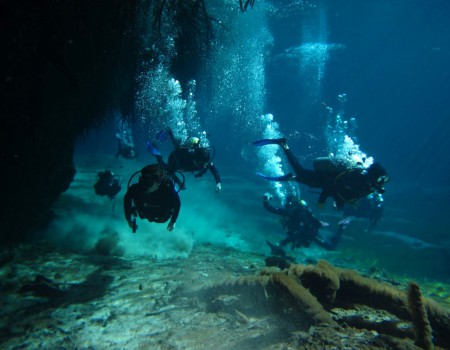 For the beginner
The two diving centres Dive Paradis in L'Escala Port and Mateua Dive in Montgó cove are doors that open to the sea. Expert instructors with an excellent knowledge of this coast that forms part of the Montgrí, Medes Islands and Baix Ter Natural Park will show you the best and safest corners for your "sea baptism". You can also snorkel along the Montgrí coast and the diving centres have carefully chosen the most beautiful, easily accessible spots with the most abundant sea life at shallow depths to enjoy this experience.
For scuba divers
Daily boat trips from our centres allow you to discover the sea beds of the Montgrí coast, some of the most well-known of which are Baix de Cols, Farriol cove and the cave of Vidua Cove. These diving sites are only accessible by boat and apart from the wide variety of species you can also discover the wrecks of the ships Cotetin and Marmoler.
And after your dive
L'Escala is a village for exploring with the family. Apart from the port and the historic centre, the seafront path running between the sea and the Greek and Roman ruins from L'Escala to Sant Martí d'Empúries. Take some time to visit the ruins, and make sure you taste L'Escala anchovies, a thousand-year-old tradition now protected by the Designation of Origin foodstuff regulatory classification system.
L'Estartit
Exactly a mile from the Medes Islands Marine Reserve, L'Estartit is its main port base. Up to 13 diving centres operate in the reserve and just a few minutes' boat ride will take you to some of the best diving spots on the Costa Brava. The nearby Montgrí coast, while less well-known than the islands nonetheless has fantastic hidden corners and coves to offer the diving enthusiast. In fact, L'Estartit can be considered as a diving capital, attracting scuba divers from all over the world for 10 months of the year, catering for both individuals and groups and providing specialist services and a wide range of experiences designed by divers, for divers.
For the beginners
If you decide that your first diving experience will be in L'Estartit, you are choosing the most well-known place on the Costa Brava among divers from all over the world. The centres that operate in L'Estartit offer a wide range of first-time experiences guaranteed to be one-off and unforgettable. You can also snorkel in the Medes Islands reserve, a true open sea aquarium where the amount and variety of fish you can see from the surface make it an exceptional site to do this activity.
For scuba divers
Vaca, Dofí, Pota de Llop and Cavall Bernat, to name just a few, are all incredible diving spots in the Medes Islands, just one mile from L'Estartit. Around the islands at depths of between 12 and 40 metres you can discover wide, illuminated open spaces covered with spectacular gorgonians and incredible fauna from majestic groupers to colourful nudibranchs. Along the Montgrí coast you can enjoy a dive down to the shipwrecked ferry Reggio Messina, in addition to other well-known dives such as Pedrosa Cove, Puig de la Sardina and Negre del Falaguer.
And after your dive
L'Estartit is a town clearly dedicated to family, sporting and nature tourism. Its hugely attractive tourist offer includes nautical activities in a natural environment for both children and adults. Be it on foot or on the tourist train, or by bike, boat or horse, discovering its natural surroundings is a must. And don't forget to make time for a visit to Torroella de Montgrí, just a few kilometres away, to see the walled area and the Mediterranean Museum, or to walk up to the emblematic Montgrí Castle, which can be seen from all over Empordà.
Llançà and Colera
Llançà is a small fishing village in the north of the Costa Brava, known for its wild coastline, lovely little coves and the unique natural spaces of Cap de Creus and Albera Natural Park. Its sporting and fishing port mean that taking a boat to the diving spots is easy and once there you can dive down to this still wild part of the Mediterranean.
Some kilometres further along, in Colera right next to the French border, you can find the Costa Brava's northernmost diving centre.
Here you will find enormous extensions of multicoloured gorgonians, red coral, crustaceans and rock fish together with huge shoals of fish.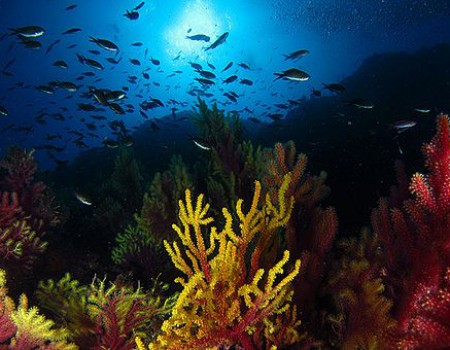 For the beginner
Far from the busy tourist centres, Llançà and Colera are peaceful, accessible, tranquil spots for your first dive. Their stony shorelines carry on into the sea and at a depth of just a few metres you will find a colourful, diverse underwater landscape. Both Cap de Creus diving centre in Llançà and Colera Diving Center offer "sea baptisms", courses for beginners and snorkelling trips to go on with either friends or the family.
For scuba divers
Exploring the northern part of the Cap de Creus Natural Park, you can dive to different depths and at all levels of difficulty to discover the diverse species, sea anemones, gorgonians and coral that fill these sea beds of uneven walls and coral landscapes. The boat trip to each diving spot is an experience in itself: a singular, one-off landscape of walls and rocks that sink into the sea where they still do not stop surprising us.
And after your dive
Two of the most recommendable of the enormous number of activities on offer that cannot be missed are paying a visit to the simply spectacular Sant Pere de Rodes Monastery and a wine tourism experience at one of the nearby Empordà Designation of Origin cellars and vineyards.
Lloret
Lloret is a point of reference for Costa Brava tourism and is possibly its most well-known village. Its shopping and entertainment centre unites with its vocation for family tourism, and it has the most 5-star hotels in any one municipality. The Lloret coast, especially its northern part and Fenals beach, has a multitude of diving and snorkelling spots from where the Costa Brava's underwater world can be discovered.
For beginners
Whether it's for a snorkelling trip, a "sea baptism" or a beginner's course, Lloret's Dolphins centres and Water Sports in Llevadó Cove are doors to the underwater world. The excursions starting from the beach and around Sa Caleta castle are in shallow waters where you will be able to see lots of fish and octopuses and even lobsters and eels. Their consistent presence and the fact that they are easy to spot make this the perfect experience for diving newcomers.
For scuba divers
Whether starting from the beach or from a boat that sets out from Canyelles port, the surroundings of Lloret are full of diving spots for all levels. Barra de Fenals, the Els Bullents reefs and the popular Roca Muladera are just some of the sites close to the bustling urban centre that will surprise and delight you with their well-preserved sea beds full of life.
And after your dive
Lloret's recreational offer is truly impressive. Its shopping and entertainment centre joins together with zones where you can take a peaceful stroll, keep the kids busy with different activities or take part in a sporting or adventure excursion. If you are with the family, the kids won't want to miss the water parks and animal parks in nearby Palafolls, and don't forget to make time for the spectacular Santa Clotilde gardens and the town's history museum.
Palamós
The fishing town of Palamós, famous for its beaches, the fishing port and its hugely varied gastronomy, is also an ideal destination to enjoy some diving. Its strategic location right in the heart of the Costa Brava allows us to experience such well-known and unmissable dives as Boreas, one of the most-visited shipwrecks along the Catalan coast, Llosa and the Formigues Islands. Here you can do all types of scuba diving activities at the 3 diving centres Dive Center Palamós, H20 and GiDive, all strategically placed in the sporting port of Palamós.
For the beginner
Nothing beats a first experience in the world of diving with a "sea baptism" from one of Palamós' coves or from a boat in the company of our instructors. Truly the best way to experience something new in a safe, fun environment. You can also do a beginner's course and guided snorkelling routes accompanied by our expert professionals.
For the scuba diver
Come and dive in one of the most sought-after spots on the Costa Brava. You can do diving, freediving, technical diving and the classic dive for all scuba divers, Boreas, the World War Two ship that sank in the waters of Palamós in 1989. You can dive down to between 18 and 32 metres to discover places full of life, including the amazing populations of conger eels, sea bream and sea bass.
And after your dive
Enjoy the tourism potential of Palamós to the full. Discover its tradition tied to the sea by visiting the fishing port and the Fishing Museum, or by taking part in one of the activities on board the working fishing boats. And don't miss out on a tour around the taverns for a night of brochettes, known locally as pinxos, and a walk around Calonge Bay to Torre Valentina, or the other thousand and one activities that this accessible town with all types of services offers.
Roses
Roses is the perfect destination to combine a family holiday with diving. This traditional fishing village with an important, completely sheltered port to the south of Cap de Creus is an ideal point from which to start to discover the Cap de Creus Natural Park. A short boat ride in the company of our experts is a voyage to discover all types of dives for all levels, including Cap Falcó and Cap Norfeu, to name just a few.
For the beginner
Our diving centres, Roses Sub and CIR Roses, are ideal for a first-time diving experience in terms of both safety and the sheer beauty of the sea beds. Both centres are just a few minutes' boat ride from ideal places for a "sea baptism" or snorkelling, another fun experience for those new to the world of diving, be it with a partner, family or friends. Your journey of discovery will take you to magical, often totally unknown places. The first few metres under the surface of the water, the so-called well-lit zone, will delight you with its bursts of colour and life, which the guides will help you put names to. A phenomenal experience!
For scuba divers
Daily diving trips to the southern area of Cap de Creus and sometimes to the Montgrí coast are organised from the diving centres in Roses. You will have the chance to see coralligenous, spongy, gorgonian and rocky sea beds, walls, caves and the shipwreck, all of which bring colour and life to the sea bed.
And after your dive
The archaeologic site of Ciutadella is well worth a visit. On the seafront, a short walk from the town centre, here you can find out about the history of the area and how it has been occupied for thousands of years. Why not take the tourist train and all the family can enjoy spectacular views around Cap de Creus? Empuriabrava with its canals and houses with landing stages is just a stone's throw away and don't forget the activities offered by its aerotrain that give you a taste of the world of parachuting in a completely safe environment.
Sant Pere Pescador
La villa de Sant Pere Pescador se encuentra en el Alt Empordà, situada en un lugar privilegiado cerca de la playa y de parques naturales de interés nacional, como el Parque Natural de los Aiguamolls de l'Empordà. Es un pueblo tranquilo, ideal para ir en bicicleta, caminar por su extensa playa, hacer excursiones en plena naturaleza y para descubrir la riqueza de su fondo marino.
Para principiantes
Si te inicias en el mundo del submarinismo, debes dirigirte a la Cova de la Sal, una zona bien resguardada y de poca profundidad, idónea para bautizos de submarinismo. Aquí podrás apreciar la numerosa fauna existente en la pradera de posidonia, si te diriges en dirección a la playa de Montgó. También podrás hacer un agradable trayecto en barco que te acercará hasta "la Xinxa" o al conocido pecio "Reggio Messina" que yace en las inmediaciones de La Foradada.
Para buceadores
Desde Sant Pere Pescador, en plena bahía de Roses, podrás acceder a zonas de buceo de gran belleza pertenecientes a dos parques naturales: el parque natural de las Islas Medas, el Montgrí y el Baix Ter, y el Parque Natural del Cap de Creus. También podrás bucear entre 32m y 35m de profundidad para conocer el Reggio Messina, un barco inicialmente dedicado al transporte de trenes y pasajeros.