Cala Montjoi
If you want to practice scuba diving into the most wonderful place on the Costa Brava, on Cala Montjoi you will succed. Here in the Montjoi Diving Center we organize dive trips into the reserve of the Natural Park every day, we also organize try dives from the beach and from the boat, diving stages and apnea stages.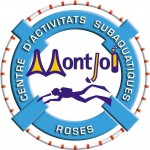 + 34 972 256 212 - +34 932 127 188
Hours
Monday to sunday
7:00h a 23:00 reception
9:00h a 13:00h / 15:30h a 19:30h booking
Languages
English
Francais
Spanish
Catalan
Services
A 11 mts boat
Compressed Air Station
Changing rooms and showers
Rental of material
Guide service

Prices
1 dive: 25 € 3 dives: 72 €
6 dives: 138 €
9 dives: 198 €
12 dives: 252 €
Include: Boat Trip + Breefing with the Dive Master
Don't include: Material – Guide
Guide: 8 € / dive
Center activities
Diving
The diving center has the necessary infraestructures to guarantee the security of all divers.
Our boat, the MONTJOI, and our compressed air station it perfectly adapts to the activities that we propose and every year we renew the suba gear.
And we are placed right in front the beach where you also can count with the advices of our scuba diving instructors.
Try diving
The best way to begin into the diving world. A dive in 3 meters depth with a dive instructor.