Centro de Inmersión Port de la Selva
DIVE CENTER
Our office, shop and meeting point for the inscriptions is at the beach, 100m from the harbor away. As we are the only distributor for "AQUALUNG" in Port de la Selva, you'll find here the complete range of diving equipment as well as spare parts for repair or service.
BOATS
Spacious, comfortable and fast, the "Maca III" is a 15 by 5,60 meter old deep sea fishing catamaran that has been retrofitted as a dive boat by divers.
The boat features a back platform deck equipped with a lift, toilet, shower, a dive tank rack, storage for bags, crates for weight belts, a Christmas tree ladder and an enclosed back deck offering protection from the sun and the weather. There are also two dive compressors on board
Just enjoy the boat diving in the wonderful scenery of Cape Creus. Everything is done for your security and your pleasure.
For special divies or smaller groups of divers a 6 meters-rubber dinghy for 12 divers is at your disposal.
It brings us fast and conveniently to the most beautiful diving places at Cap de Creus.
INSTRUCTORS
A team of monitors trained and friendly, made up of two permanent monitors. During July and August the team extended up to six monitors.
We organize training courses tailored weekly. With them you get the following diplomas FFESSM / CMAS and PADI.
The instructors will help you discover the underwater splendor of our Mediterranean coast.
¡Fun and great atmosphere guaranteed!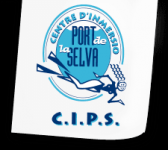 El Port de la Selva
Carrer de l´Illa, 9

972 12 65 84
Hours
We dive twice a day, from 01 April to 11 November.
Our departure times vary during the season, usually go out to dive at 8:30 pm and at 14:30 pm or 8:30 to 13:00 for departures doubles
Services
Compressor unit
Technical center
Insurances
Diving Shop
Nigth dives and day trips
Center activities
Diving

The diversity of the underwater world never fails to excite even the most ardent diver. The northern side of the Cape is very rich in fauna and flora. In a colorful aquatic realm, the diver comes across wonderful corals in red, violet or yellow. These are very frequent and still multiplying.

In this marvelous scenery you'll find all marine life of the Mediterranean Sea. In colder waters (April 13°C, May 16°C) you'll observe several species coming near the coast for spawning, f.e. nudibranchs, common cuttlefish, octopus, sunfish, angler fish and eagle ray. When the water warms up, other fishes like grouper, brown meagre, dentex, barracuda, bass,.. are appearing.

In 1998 Cape Creus has become a natural park. Inside this enormous space 4 reservates have been created. 3 of them are accessible to divers.

Our diving grounds lie between Port de la Selva and the Isle "Massa de Oro", the outer point of Cape Creus. The 20 dive sites we have allow us to vary the site frequently. Due to the many creeks and isles, we're always able to find a place out of the wind and with a minimum of drift.

Of course we mostly dive inside the Natural Park where fauna and flora grow well.
Try diving
Discover scuba, one day to learn the basics of diving.
Courses
Dive courses.
First dives, possible every afternoon for safely discovering scubadiving.
Discover scuba, one day to learn the basics of diving.
Specialty courses in underwater photography or naturalist, for dicovering a new interest in scubadiving.
Practical courses nitrox, maintenance of the material, identification of fish, deep diving, as addition to the classical diver training.