Stollis Divebase
Situated in the north east of Spain in the wild heart of the Costa Brava, it remains untouched by the ravages of commercialised tourism – no multi storey hotel complexes here . . .

Join us on our daily excursions to explore from a choice of 11 different and varied off-shore dive sites from our beautifully traditional dive boat 'Gabriela'

The jetty is a mere 30 meters distance from our beach front dive base, making boarding the boat easy and fuss free.

Shore dives from the jetty on our house reef are a revelation, and are much frequented by marine biologists because of its diversity. Perfect for all levels of expertise, and protected for use by divers and swimmers only. Easy entry and exit points make it equally as convenient for beginners or those of us overloaded with photographic equipment!

Ideal for groups – Customised offers upon request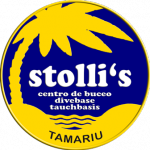 Tamariu (17212)
Passeig de Mar , 26

+34 972 620 035 - +34 628 591 350
Hours
From Easter until the end of October.
Daily 9:00 to 18:00 (with seasonal exceptions)

Languages
Catalan
Spanish
French
English
German
Deutsch
Services
20 full kits
40 tanks 10l / 12l, default Mono DIN 200 bar, international adapters available
2 Bauer-compressors - capacity 500 l/min
1 diving boat "Gabriela" for 10 persons
Complete safety-kit including 100 % oxygen
Nearest decompression chamber: Palamós, 15 min distance
Terrace
Shower
Toilet
Safe storage of dry matters during the dive
Prices
Boat dive: 28 €
not included: rental equipment, guide, other services like insurance...

Night dives:
21,50 € at the house reef
37,00 € off shore (boatdive)
not included: rental equipment, guide, other services like insurance...

Guide:
11 € in group per person and dive
25 € personal dive guide

Center activities
Diving
Dives:
Cala de Tamariu
Cala Nova (Tamariu canyons)
Furio de Aigua Xelida
Montiell
Ullastres
Furio Fito de Begur
Tabal
Cala Nova 2
El Ancla
Gispert's cave
Try diving
Your children are in good hands with us:
In order to give expert care to the kids and to meet the big responsibility, our instructors Mary and Tom did extra training with IAC.
Courses
In Tamariu Diving is FUN:
We offer a wide range of different courses and specialties - focusing on small groups and individual mentoring.
CMAS, SSI and PADI courses.