Les Illes
The diving center Les Illes, established in 1985, is a center dedicated to offer you the best diving services and adventures on the Costa Brava, both on the Medas Islands and on different diving spots on the coast.
The center is set directly opposite to the harbour of L'Estartit, close to one of the most spectacular areas to practice diving on the Costa Brava: the Medas Islands, an archipelago consisting of seven islands located about 10 minutes boat ride from the harbour of L'Estartit.
Our diving center provides everything needed for the dives and offers a wide range of services such as a team of diving guides and instructors, facilities for cleaning and drying of the diving equipment and complete diving sets for rent.
The Les Illes diving center ensures you a maximum of safety and truly unforgettable underwater moments.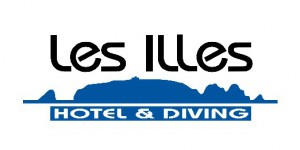 L'Estartit
Carrer les Illes, 55

972 751 239 - 627 433 350
Hours
Open from March to November
Opening hours: 9:00h to 21:00h
Languages
Català
Francais
English
Deutsch
Nederlands
Italiano
Services
Two boats: L'ILLA and L'ILLA II situated in the harbour of L'Estartit, a 5 minutes walk away. Both are designed specifically for diving, each has a 12 yards length and can transport up to 40 persons (ship crew included). L'ILLA I and L'ILLA II are equipped with two engines of 90 HP each, VHF, oxygen rescue sets, first-aid kits, and zodiac rescue boats.
Equipment rental
Nitrox
Guided dives
Showers and changing room
Prices
Check the center's website

Center activities
Diving
The good infrastructure and location on the Costa Brava makes Les Illes an ideal center for diving on the Medas Islands in L'Estartit. With more than 20 years of experience, Les Illes has a team of international diving guides and instructors dedicated to provide the best services for professional divers and diving lovers. The diving center Les Illes provides facilities for cleaning, drying, storing of the diving equipment, charging batteries, and making small repairs as well as showers and toilets on your return from the diving trip. Additionally, the center has a room available where you can organise events such as meetings, conferences and courses. But this is not all: At Les Illes you also benefit from a free equipment transport service to the boat that is 5 minutes walk away and the possibility of renting all diving equipment needed. To best enjoy your dives on the Medas Islands you even have the option to use nitrox. The diving center Les Illes organises 4 boat trips per day, 2 in the morning and 2 in the afternoon, and has a fleet of boats especially prepared for diving activities. Leave everything behind and come to enjoy some unforgettable diving holidays on the Medas Islands in L'Estartit and on the Costa Brava.
Try diving
This is an introduction into the world of scuba diving (with bottle) for all those who have never dived before. Discover this impressive and 100% safe activity where participants are individually supervised by qualified diving instructors. In L'Estartit you will get a presentation about the activity explaining the basics of diving. Afterwards the participants are equipped with a diving suit, a mask, and fins. Then a boat brings us to a protected and shallow cove (el Falaguer) that is the ideal place for your first dive. Once the boat is fixed all participants will be fully equipped (bottle, weights, diving jackets, etc.) and we can start our dive. The dive will take some 20/25 minutes and has a maximal depth of 12m.
Snorkeling
Surely one of the most exciting activities on the Medas Islands on the Costa Brava is snorkeling. If you know swimming you can enjoy an unforgettable underwater adventure with wetsuit, snorkel, and diving glasses. You will be accompanied by the instructors of our activity centre who will guide you to the most interesting corners of the Medas Islands where you will be overwhelmed by the amount and variety of marine life. Sea breams, saddled seabreams, rainbow wrasses, corbachos, castañuelas, starfishes, mullets, gilt-head breams, groupers and more fishes you can discover on the Medas Islands. In order to identify them you will need to take a waterproof fish ID guide with you.
Courses
In the HOTEL & DIVING LES ILLES, dive school, you can profit by an entire variety of diving courses for all levels, from beginners to experienced divers, and officially accepted certificates of PADI, SSI and PSI. All courses are internationally recognized. The PADI, SSI and PSI training system to become a diver will enable you to enter the world of diving in a kind of enjoyable way and turn into a confident diver so that you will have the utmost pleasure whilst diving on the Costa Brava. Furthermore, you will be able to discover the specialities of diving when more experienced.